Field sales remains a vital driver of business growth in today's dynamic world. It serves as the lifeblood and engine that propels organizations forward. However, as the business landscape evolves, sales representatives face evolving challenges.
These challenges may appear daunting, ranging from establishing trust in a digital era to effectively managing large volumes of sales data. But fear not! By employing the right strategies and tools, you can navigate these hurdles and guide your sales team toward success.
After all, field sales is not a pursuit for the faint-hearted. It demands a unique combination of skills, resilience, and strategic thinking.
Sales reps constantly find themselves on the front lines, grappling with rejection, competition, and the unrelenting pressure to meet targets. They are the warriors of the business realm, always prepared to tackle the next challenge. 
Yet, even the most expert fighters require suitable tactics and tools to thrive. This guide is specifically tailored for this scenario.
In this comprehensive manual, we shall investigate the recurring hurdles experienced in field sales and furnish tangible remedies informed by an extensive track record of personal experience and industry expertise. So, let's dig deep and conquer those challenges collaboratively!
1. Challenge: Building Trust in a Digital Landscape
In today's post-pandemic era, face-to-face interactions have declined, and the field sales landscape has shifted towards digital platforms. This change presents a significant challenge: how can sales reps establish trust with prospects or customers in a solely digital environment?
Trust is essential in any business relationship as it forms the foundation for success. In field sales, trust becomes even more critical.
The first point of contact for customers is commonly sales reps, and how well they establish trust can shape the result of a sale.
Building trust in the context of the digital landscape requires certain approaches. What are they? How can a genuine connection be formed with prospects or customers without the opportunity for face-to-face meetings? This is recognized as one of the key obstacles encountered by sales personnel in the digital era.
The Solution: Genuine Interactions and Data Protection
In today's digital era, trust is built upon two essential elements: genuine interactions and strong data protection.
Authenticity forms the foundation of trust, and it's vital to prioritize sincere and customer-focused interactions. Additionally, with the increasing prevalence of data breaches, safeguarding customer information becomes a top priority. 
Let's explore how these elements contribute to building trust in the digital landscape. By following these strategies, you can build trust in the digital landscape, foster genuine interactions, protect customer data, and leverage the power of reviews to enhance credibility and trustworthiness.
A. Genuine Interactions
Prioritize Authenticity: Sales is fundamentally a people business, so make your interactions genuine and customer-centric. Show that their trust is of utmost importance to you.
Transparent and Honest Communication: Avoid making empty promises and instead be transparent about your products or services. Address any concerns or questions the customer may have, demonstrating honesty and building trust.
Data Protection for Customer Trust: Safeguarding customer data is crucial in the digital age. Implement robust security measures and effectively communicate them to customers, assuring them that their data is secure.
Leverage Customer Reviews: Positive reviews have the potential to greatly boost your credibility and establish trust with potential customers. When faced with negative reviews, respond in a professional and constructive manner, highlighting your dedication to continuous service improvement.
B. Reviews and Feedback
Harness the Power of Reviews: Encourage customers to leave reviews on your company website and social media channels. Positive reviews enhance credibility and foster trust among potential customers.
Responsiveness to Negative Reviews: Address negative reviews professionally and constructively. By doing so, you exhibit a commitment to customer feedback and a dedication to improving your services.
Personalized Communication: Personalized communication demonstrates your appreciation for customers as individuals and your understanding of their unique requirements, greatly enhancing trust.
Consistent Follow-Up: Maintain consistent contact with your customers to keep them engaged and convey your appreciation for their business. Regular follow-up not only fosters long-term relationships but also showcases your dedication to ensuring customer satisfaction.
2. Challenge: Prospecting and Lead Generation
The task of discovering and connecting with valuable leads has perpetually posed challenges. In the modern age of digital connectivity, it becomes even more demanding to elicit a response from prospective clients who you have not had any physical encounters with.
Ignoring emails and phone calls is simpler in comparison to face-to-face interactions. Salespeople may become demotivated and leads may remain unconverted due to the lack of response.
Prospecting and lead generation form the lifeblood of the sales process. Without leads, there are no conversions.
Still, obtaining leads that meet high standards is no simple task. Achieving success demands a strategic approach, a thorough understanding of your target market, and the skill to engage and cultivate leads until they are prepared to complete their purchase.
The Solution: Consistent Follow-up and Diversified Communication Channels
Prospecting and lead generation in the digital age require a two-pronged approach: consistent follow-up and diversified communication channels.
By maintaining consistent follow-up, you keep your leads engaged and guide them through the sales cycle.
Simultaneously, diversifying your communication channels allows you to reach prospects where they feel most comfortable. These strategies are essential in establishing and maintaining connections with potential clients, ensuring that valuable leads are not overlooked.
Let's explore how these approaches can help you conquer the challenge of prospecting and lead generation.
A. Consistent Follow-up for Engaged Leads
Building Lasting Relationships: Follow-up goes beyond closing a sale; it focuses on establishing a strong bond with prospects.
Understanding Prospect Needs: Through consistent follow-up, gain insights into their requirements and tailor solutions accordingly.
Providing Value: Offer valuable information, insights, and resources during follow-up interactions.
Timely Responses: Responding promptly to shows that you value their time and are committed to providing excellent customer service.
B. Diversified Communication Channels for Enhanced Engagement
Breaking Communication Barriers: Go beyond conventional channels like calls and emails to connect with prospects.
Embracing Text Messages: Utilize text messages to reach prospects conveniently and promptly.
Leveraging Social Media: Harness the power of social media platforms to engage and nurture leads effectively.
C. Striking the Right Balance in Communication
Tailoring the Message: Match the message to the appropriate communication channel for maximum impact.
Sharing Informative Content: Utilize social media as a platform to share relevant and valuable content.
Formal Communications: Utilize emails for formal exchanges such as sending proposals or contracts.
Respectful Engagement: Always respect your prospects' communication preferences and privacy. Avoid spamming and ensure your messages add value, demonstrating that you respect their time and attention.
3. Challenge: Differentiating from Competition
In a saturated market with fierce competition, distinguishing your company can be a daunting task. How can you effectively communicate your unique value to potential buyers when faced with numerous options that seemingly serve the same purpose?
Differentiation is the key to success in any competitive market. It is what sets you apart from your competitors and highlights your uniqueness.
However, achieving differentiation in a crowded market is no easy feat. It requires a thorough understanding of your target market, competitors, and your own distinct value proposition.
The Solution: Deep Understanding of Buyer Personas and Competitive Analysis
In a competitive market, differentiating yourself from the competition requires two key ingredients: a solid grasp of your buyer personas and a thorough competitive analysis.
Understanding your buyer personas allows you to tailor your approach to address their specific needs and challenges. On the other hand, conducting a comprehensive competitive analysis helps you identify your unique value proposition in the market.
Let's dive deeper into how these solutions can help you soar above the competition. By gaining a deep understanding of buyer personas, conducting comprehensive competitive analysis, and delivering superior value, you can effectively differentiate your brand in the market, establish a competitive edge, and drive enhanced performance.
A. Understanding Your Buyer Personas
Identifying Pain Points: Gain a deep understanding of your buyer personas, exploring their challenges and pain points.
Tailoring Solutions: Analyze how your product or service effectively addresses their needs, providing valuable solutions.
Leveraging Sales Enablement Tools: Utilize sales enablement tools to track and organize buyer persona information, enabling a customized approach for each prospect.
B. Keeping a Pulse on Your Competitors
Comprehensive Competitor Analysis: Conduct a thorough evaluation of your competitors, understanding their offerings and strengths.
Emphasizing Differentiation: Identify key areas where you differ from competitors, highlighting your unique value proposition.
Recognizing Strengths and Weaknesses: Assess your strengths to leverage them effectively and address weaknesses for continuous improvement.
Regular Monitoring of Market Trends: Stay updated with the latest market trends and changes in customer preferences. This can help you adapt your strategies accordingly and maintain a competitive edge.
C. Beyond Differentiation: Providing Superior Value
Going Beyond Being Different: Differentiation alone is not enough; focus on delivering superior value to customers.
Enhancing Strengths: Capitalize on your strengths to deliver exceptional value and exceed customer expectations.
Addressing Weaknesses: Continuously work on improving weaknesses to enhance overall performance and customer satisfaction.
4. Challenge: Bridging the Gap Between Sales and Marketing
Frequently, there is a perception of conflict between marketing and sales departments. The lack of recognition of their mutual support and differing goals can create a disconnect that hampers the overall process, causing misunderstandings and inefficiencies.
However, it is crucial to understand that sales and marketing are two interconnected entities essential to the success of any business.
Yet, often these departments operate in isolation, with minimal communication or collaboration, leading to missed opportunities and inefficiencies.
The Solution: Improved Cross-Communication and Shared Objectives
Aligning sales and marketing is a common challenge, but it is achievable through enhanced cross-communication and shared objectives. 
By fostering open lines of communication, both teams can better understand and align with each other's goals. Additionally, establishing shared objectives ensures that both teams are united and working collaboratively.
Let's explore how these strategies can effectively bridge the gap between sales and marketing.
A. Building Strong Cross-Communication
Unlocking the Power of Communication: Strengthening the connection between sales and marketing relies on fostering open lines of communication.
Collaborative Meetings: Regular gatherings that bring both teams together provide a platform to discuss goals, challenges, and progress, nurturing understanding and alignment.
Sharing Insights: Creating a space for sharing insights, market trends, and customer feedback can deepen collaboration and drive mutual success.
Establishing Shared Objectives: Develop shared objectives and goals that both teams can work towards. This common ground can enhance understanding of each other's roles and contribute to the bigger picture, fostering collaboration and improving overall performance.
B. Establishing Shared Objectives and Goals
A Unified Vision: Developing shared objectives and goals allows both sales and marketing to work harmoniously towards a common purpose.
Recognizing Interdependence: Understanding how each team's roles interplay and contribute to the bigger picture fuels collaboration and synergy.
Examples of Shared Goals: Marketing may aim to generate a specific number of qualified leads, while sales focuses on converting a targeted percentage into valuable customers.
C. The Power of Collaboration for Enhanced Performance
Cultivating a Collaborative Culture: Fostering an environment that values teamwork and collaboration propels both teams towards higher levels of performance.
Leveraging Expertise: Drawing upon the unique strengths and expertise of each team enhances overall effectiveness and efficiency.
Measuring Joint Success: Tracking and celebrating joint achievements reinforces the shared commitment to collaboration and success.
Unified Communication Channels: Implementing shared platforms for communication and information sharing can lead to more seamless collaboration and improved overall performance.
5. Challenge: Efficient Management of Sales Data
In this time of data-driven decision-making, effective management of sales data is critical. Nevertheless, the immense quantity of data can frequently appear daunting.
Traditional methods such as spreadsheets and calendars no longer suffice in effectively handling this wealth of information.
Sales data acts as the compass for your sales process, guiding decisions, tracking progress, and offering valuable insights into performance. Yet, managing this data poses a significant challenge. With the ever-increasing volume of data generated throughout the sales journey, it's easy to find oneself lost amidst a sea of numbers.
The Solution: Dedicated Sales Enablement Software
A powerful tool like Beest.app can streamline your sales process, enhance productivity, and boost sales performance.
Incorporating sales enablement software into your operations empowers your sales team and provides the foundation for data-driven decision-making.
By automating mundane tasks, it liberates your sales reps to focus on their core strength – selling. Let's explore how sales enablement software can help you conquer the challenge of efficiently managing sales data.
A. The Power of Sales Enablement Software
Embracing Digital Advancements: In the dynamic landscape of field sales, leveraging dedicated sales enablement software has become imperative.
Comprehensive Solution: The right software equips you with powerful tools to manage sales data, automate administrative tasks, track client information, and capture valuable competitor insights.
Empowering Sales Teams: By providing your sales team with effective management software, you enable them to sell more efficiently and effectively, driving enhanced results.
B. Streamlining the Sales Process
Boosting Efficiency: Sales enablement software streamlines your sales process, optimizing workflow and reducing time-consuming manual tasks.
Automation for Productivity: By automating mundane administrative tasks, your sales reps can focus on their core strengths – selling and building relationships.
Unleashing Sales Potential: With more time and energy devoted to selling, your sales team can unleash their full potential and drive exceptional performance.
Data-Driven Insights: Sales enablement software provides valuable insights into your sales performance, helping you make data-driven decisions. By understanding your sales metrics better, you can identify areas of improvement and strategize more effectively.
C. Insights for Informed Decision-Making
Harnessing Data-Driven Decisions: Sales enablement software provides valuable insights into your sales performance, enabling informed decision-making based on accurate data.
Analytics for Optimization: Analyzing key sales metrics and trends empowers you to identify areas of improvement and seize growth opportunities.
Proactive Sales Strategy: By aligning your sales approach with data-driven insights, you can proactively adapt and refine strategies to meet evolving market demands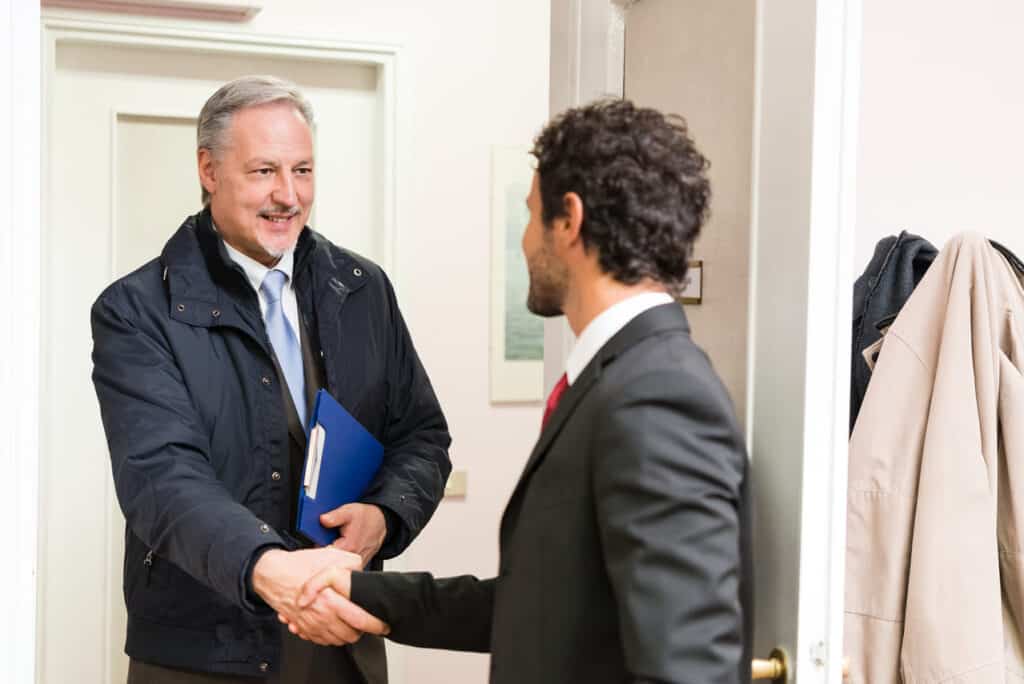 Final Thoughts | Overcoming Field Sales Challenges
Field sales challenges may seem overwhelming, but they can be conquered. By implementing effective strategies and utilizing the right tools, you can navigate these obstacles and guide your sales team toward success.
Whether it's building trust in a digital landscape or managing extensive sales data, each challenge presents an opportunity for growth and improvement.
Remember, the key to overcoming these challenges lies in understanding your prospects, differentiating yourself from the competition, fostering collaboration, and leveraging technology. As the field sales landscape continues to evolve, so should your strategies.
Embrace these challenges, equip yourself with the right strategies and tools, and embark on your journey to field sales success. Keep pushing forward, never stop learning, and continue to grow. Your field sales success is just around the corner. 
Remember, every challenge is an opportunity in disguise.
Frequently Asked Questions
What are the common challenges in field sales?
Common challenges in field sales include building trust in a digital landscape, prospecting and lead generation, standing out from competitors, bridging the gap between sales and marketing, and efficiently managing sales data.
How can I build trust with customers in a digital landscape?
To build trust with customers in a digital landscape, prioritize genuine interactions, transparent communication, robust data protection, and leverage customer reviews and feedback.
What strategies can help in prospecting and lead generation?
Strategies for effective prospecting and lead generation include consistent follow-up and diversifying communication channels.
How can I differentiate from my competitors in field sales?
To differentiate from competitors in field sales, understand your buyer personas, conduct competitive analysis, and focus on your unique value proposition.
What tools can help manage sales data effectively?
Effective management of sales data can be facilitated with dedicated sales enablement software, which streamlines processes, automates tasks, and provides valuable sales performance insights.