Sales representatives engage with customers face-to-face in a dynamic and challenging outdoor landscape of field sales.
You have arrived at the right place if you are a field sales representative or a leader seeking to comprehend the subtleties of field sales. This comprehensive guide will explore the fundamentals of field sales-efficient strategies and offer insights to enhance your overall sales performance.
So, are you ready to become a field sales pro? Let's dive in!
I. Understanding Field Sales
Field sales, also known as outside sales, is a sales approach where representatives actively go out into the field to meet potential leads. This approach is crucial for companies selling complex or high-end products or services, as it allows for personal interactions and relationship building. 
Unlike traditional office-based sales, outside sales representatives have the flexibility to engage with customers outside regular office hours and can adapt their approach based on individual client needs.
By meeting customers face-to-face, field sales reps can establish trust, address concerns immediately, and provide personalized solutions.
But why is field sales so important? It's simple. This type of sales approach allows for a deeper understanding of client needs, enabling sales reps to provide tailored solutions that truly resonate with the audience.
This personalized approach often leads to higher customer satisfaction and loyalty, ultimately driving business growth. In a world where virtual communication has become the norm, outside sales brings a human touch and builds meaningful connections.
A. The Role of Field Sales Representatives
As a sales representative, your role extends beyond just selling a product or service. You are the face of your company, representing its values, brand, and offerings. 
Brand Ambassadors: You embody the company's mission and vision, showcasing its strengths and competitive advantages.
Prospecting and Relationship Building: Identifying potential prospects – through networking, cold calling, and lead generation strategies – and establishing meaningful relationships with them.
Face-to-Face Sales Meetings: Excel in face-to-face interactions, conducting sales meetings with potential clients, delivering persuasive presentations, and addressing concerns.
Territory Management: You have to analyze market potential, prioritize leads, and plan their schedule to maximize productivity and sales outcomes.
Sales Target Achievement: Accountable for meeting or exceeding sales targets set by the company. They develop strategies, execute sales plans, and utilize their persuasive skills to close deals and drive revenue.
Continuous Learning and Adaptability: Stay updated with industry trends, competitor insights, and product knowledge. They adapt their approach to different customer personalities, industries, and market dynamics.
Customer Relationship Management: Focus on building strong client relationships for long-term loyalty and repeat business. Actively listen to consumer needs, provide personalized solutions, and offer ongoing support.
B. Field Sales vs. Inside Sales
Outside sales and inside sales are two sides of the same coin, each with its unique advantages and challenges.
Field sales excels in industries where building relationships and providing personalized solutions are critical. It's ideal for selling complex or high-value products and services that require in-depth discussions, demonstrations, and relationship building.
By meeting clients face-to-face, field sales reps can establish trust, understand pain points, and address concerns immediately, leading to higher conversion rates and satisfaction.
On the other hand, inside sales offers efficiency and scalability. It allows sales reps to reach a larger number of prospects within a shorter timeframe. Inside sales teams can leverage technology to automate processes, conduct virtual meetings, and handle a higher volume of sales activities.
This approach is particularly effective for brands with lower complexity and price points, where personal interactions may not be as crucial.
The key to success lies in finding the right balance between field sales and inside sales. Many organizations adopt a hybrid approach, combining the strengths of both strategies to optimize their sales efforts.
For example, field sales reps can focus on high-value accounts and building relationships, while inside sales reps handle initial prospecting and lead qualification. This collaborative approach ensures that each customer receives the appropriate level of engagement based on their needs and preferences.
II. Mastering Field Sales
A. Prospecting and Lead Generation in Field Sales
As a field sales representative, it's essential to identify and qualify potential customers effectively. The key lies in leveraging technology and tools to streamline your prospecting efforts.
CRM systems, sales intelligence platforms, and lead generation tools can provide valuable insights and data to help you identify high-quality leads.
Define your ideal customer profile: As sales reps, you must understand the demographics, pain points, buying behaviors, and specific needs of your target market.
Targeted prospecting strategies: With a clear understanding of the ideal customer profile, sales reps can develop prospecting strategies that align with their characteristics and preferences.
Utilize data-driven approaches: Your sales team must analyze criteria such as industry, company size, geographic location, and past purchasing behavior to target the most promising prospects.
Networking events, trade shows, and conferences: As sales reps, you should participate in relevant industry events where you can connect with potential customers and industry influencers. Building a strong network: Your sales team can engage with key individuals in your industry, establish rapport, and stay connected for a robust network.
B. Building Relationships in Field Sales
Connecting with customers on a personal level and comprehending their specific requirements will distinguish you from the competition in field sales. Here are some approaches to assist you in constructing and sustaining connections in field sales.
Effective Communication: As sales reps, be sure to listen actively to your customers, ask open-ended questions, and show genuine interest in their challenges and goals. Tailor your messaging to resonate with their needs and provide relevant solutions.
Personalized Approach: Every customer is unique, and their requirements may vary. Make sure your sales team customizes your interactions and solutions based on individual preferences and pain points.
Timely Follow-ups: Follow up with your customers promptly after sales team meetings or discussions. Send personalized follow-up emails or make phone calls to address any questions or concerns they may have. This demonstrates your commitment and reinforces the relationship.
Relationship-Nurturing Activities: Stay in touch with your customers through regular check-ins, newsletters, or industry updates. Provide value beyond the sales transaction by sharing relevant resources or industry insights. The goal is to position yourself as a trusted advisor and partner.
Remember, building relationships takes time and effort. Be patient, persistent, and consistent in your approach. Genuine connections with customers will lead to long-term loyalty and repeat business.
III. Product Knowledge and Presentations in Field Sales
You can communicate the value of your product or service better when you are well-equipped with its knowledge and information. To enhance your knowledge and deliver compelling presentations, follow these tips.
A. Study Your Product
Invest time in understanding the features, benefits, and unique selling points of your offerings. Know how it solves customer problems and addresses pain points. Familiarize yourself with success stories or case studies to illustrate real-world examples.
B. Practice Demonstrations
Whether it's a software solution, a physical product, or a service, practice showcasing its key features and how they directly benefit customers in real-life scenarios. Anticipate potential questions or objections and prepare responses to address them confidently.
C. Customize Presentations
Tailor your presentations to meet the specific needs and pain points of each client. Highlight the features and benefits that resonate most with their business goals. Use storytelling techniques to create a compelling narrative that showcases the value your brand brings.
D. Visual Aids
Utilize visual aids such as slides, videos, or product samples to enhance your presentations. Visuals can help clarify complex concepts, engage your audience, and leave a lasting impression. Ensure that your visual aids are visually appealing, concise, and aligned with your messaging.
IV. Overcoming Objections and Closing Deals in Field Sales
Objections are a natural part of the sales process, and field sales is no exception. To effectively handle objections and close deals, follow these strategies.
A. Active Listening
When faced with objections, listen actively to understand the underlying concerns. Ask follow-up questions to gather more information and demonstrate that you value their perspective.
B. Empathize and Address Concerns
Show empathy and acknowledge the customer's concerns. Provide relevant information and address their objections directly. Highlight how your product or service can overcome their specific challenges or alleviate their pain points.
C. Share Success Stories
Utilize success stories, case studies, or testimonials to illustrate how your product has helped similar clients overcome obstacles and achieve their goals. Social proof can alleviate doubts and build trust.
D. Trial Periods or Pilot Programs
Offer trial periods or pilot programs to give customers a risk-free opportunity to experience the value of your product. This allows them to see firsthand how your solution addresses their needs and validates their decision to move forward.
E. Closing Techniques
Master various closing techniques to confidently ask for the sale. Whether it's the assumptive close, the alternative choice close, or the urgency close, choose the appropriate approach based on the customer's personality and the context of the conversation.
Remember, objections are not roadblocks but opportunities to showcase your expertise and provide solutions. By addressing objections effectively, you can build trust, overcome hesitations, and close deals with confidence.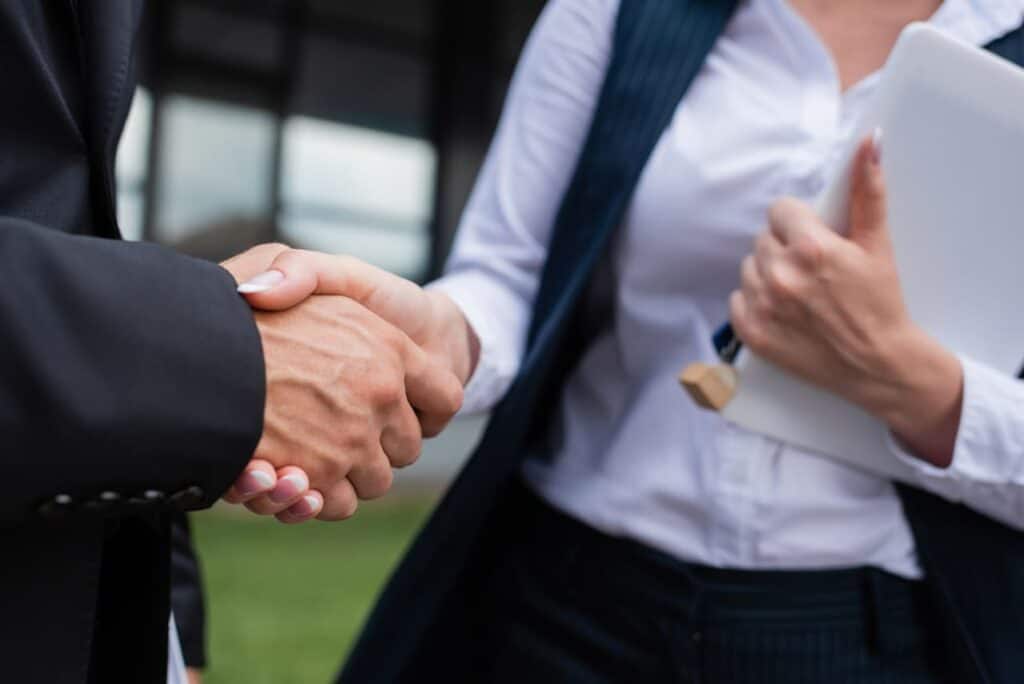 The Future of Field Sales
Field sales is an ever-evolving landscape, influenced by technological advancements and shifting expectations. Here are some trends that are shaping the future of field sales:
Data-driven Insights: Sales reps can analyze customer data to gain insights into buying patterns, preferences, and pain points. This information helps in personalizing sales approaches and providing targeted solutions.
Virtual Engagement: Sales reps can leverage video conferencing, virtual demos, and augmented reality to engage with leads remotely while maintaining the personal touch of outside sales.
Integration of Artificial Intelligence: AI-powered chatbots, for example, can handle queries and provide personalized recommendations based on their preferences and purchase history.
Collaboration and Knowledge Sharing: Technology platforms facilitate knowledge sharing, allowing reps to learn from each other's experiences, access training resources, and stay updated on industry trends.
Final Thoughts | Understanding and Mastering Field Sales
Building meaningful connections with customers, understanding their needs, and providing tailored solutions are the essence of field sales.
You can become a field sales pro by mastering the above-mentioned skills and keeping yourself updated with industry trends.
Regardless of whether you're a beginner in field sales or an experienced professional, you should continuously refine your abilities, adopt technology and cultivate authentic connections with your clients.
Field sales provides unlimited avenues for growth and success and is a vibrant and gratifying career.