In today's fiercely competitive business landscape, field sales assume an integral role in propelling revenue growth and expanding market reach.
However, field teams face a multitude of challenges. To conquer these and emerge as true industry leaders, professionals must harness the immense power of data-driven insights.
By skillfully leveraging the vast wealth of available data and employing advanced analytics techniques, teams can unlock the boundless potential that lies within their endeavors, make astute and well-informed decisions, and achieve truly remarkable results.
Let's delve deep into their transformative potential and explore how they can revolutionize the field of sales.
The Role of Data-Driven Insights in Field Sales: Unlocking the Power of Information
In the fast-paced world of field sales, making informed decisions is crucial. Professionals no longer rely solely on intuition or guesswork. With abundant data available, they can tap into valuable insights that transform their strategies and outcomes.
Fact-based insights serve as the bedrock of success for field sales teams, empowering reps and temps to depart from intuition-based decision-making and instead rely on concrete evidence and discernible patterns derived from sales reports. 
Through the astute leveraging of data and analytics, they unlock valuable insights that inform decision-making, optimize processes, and drive remarkable revenue growth.
Informing Decision-Making: Such insights empower professionals by providing them with concrete evidence and patterns derived from sales data. This enables them to shift away from relying solely on intuition and make informed choices based on tangible information.
Accurate Forecasts: Leveraging data and analytics, teams can gain a comprehensive understanding of customer behaviors, preferences, and market trends. This allows them to make more accurate forecasts and predict outcomes with greater precision.
Tailoring Sales Strategies: Field professionals use datum-driven insights to customize their strategies. By analyzing customer behaviors and preferences, they can personalize their approach and improve their chances of success.
Optimizing Sales Processes: Analyzing sales data helps teams identify and address bottlenecks, inefficiencies, and areas for improvement. With this knowledge, they optimize their workflows, allocate resources effectively, and enhance.
Driving Revenue Growth: By understanding customer preferences and pain points, field professionals can craft personalized and targeted strategies that align with customer needs, leading to higher conversion rates and revenue generation.
Adapting to Market Changes: Sales teams monitor and analyze reports and statistics to identify emerging trends, competitors, and customer preferences. With this knowledge, they adjust their strategies, refine their messaging, and stay ahead.
Enhancing Customer Engagement: Analytical insights help sales reps engage customers effectively. By analyzing customer information, teams gain insights into individual needs and provide personalized solutions that resonate.
Improving Sales Team Performance: Sales data serves as a valuable resource for evaluating the performance of individual team members. By carefully analyzing reports and statistics, sales managers identify areas for improvement, provide targeted coaching and training, and optimize overall performance for sustained success
Identifying Opportunities: Datum-driven insights help teams identify potential leads and opportunities. Analyzing the details of customer interactions and buying behaviors enables professionals to prioritize their efforts and focus on high-potential opportunities.
Informing Sales Strategy Development: Such insights guide the development of sales strategies. By analyzing data on market trends, competitor activities, and customer preferences, teams can make strategic decisions that align with the evolving market landscape.
Enhancing Customer Relationships: By leveraging data-driven insights, sales professionals can deepen their relationships with customers. By understanding their preferences, pain points, and purchase history, field teams can provide personalized recommendations and tailored solutions.
Facilitating Continuous Improvement: Evidence-based insights facilitate a culture of continuous improvement within teams. Regularly analyzing sales data allows sales teams to identify areas for refinement, experiment with new approaches, and continuously optimize their strategies.
1. Gathering and Analyzing Sales Data
To harness datum-driven insights, field sales teams gather and analyze various data sources, including customer interactions, sales transactions, and market trends.
The Role of Data Collection and Organization in Field Sales
Valuable Insights: Gathering and organizing data provide teams with valuable insights into customer behaviors, preferences, and pain points. These insights inform sales strategies and decision-making.
Accuracy and Quality: Ensuring the accuracy and quality of data is paramount. Flawed or incomplete information can lead to erroneous insights. Implementing robust information collection processes, supported by appropriate tools and technologies, is crucial for ensuring reliable and insightful reports.
Data Collection Challenges: Information collection in field sales is not without its challenges. Sales teams must navigate obstacles such as capturing details from diverse sources, ensuring consistency across data entry, and overcoming potential biases in info collection.
Tools and Technologies: Utilizing tools and technologies can streamline data collection processes. Customer relationship management (CRM) systems, mobile applications, and automated data capture solutions enable sales teams to collect information efficiently and accurately.
Data Organization: Implementing a structured and centralized storage system allows sales teams to access and analyze details effectively. The proper organization facilitates quick retrieval and ensures data is available for analysis when needed.
Data Validation and Cleaning: Before analysis, validation and cleaning are necessary steps to ensure accuracy. Removing duplicates, resolving inconsistencies, and addressing missing details enhance the reliability and quality of insights derived from the reports.
Data Security and Privacy: Upholding trust and safeguarding sensitive information necessitates the implementation of robust security measures, adherence to data protection regulations, and obtaining proper consent from customers.
Data Governance: Establishing comprehensive info governance practices is paramount to maintaining the integrity and reliability of collected information. This entails defining ownership, setting quality standards, and implementing robust processes for maintenance and updates.
Continuous Improvement: Data collection and organization are iterative processes. Sales reps should continuously evaluate and refine their collection methods, leveraging feedback and insights to enhance the accuracy and relevance of the collected information.
Collaboration and Communication: Effective collaboration and communication among teams, data analysts, and IT departments are crucial for successful collection and organization. Clear communication fosters a fact-based culture within the organization.
2. Extracting Actionable Insights
Once the data is collected, the next step involves analyzing it to identify patterns, trends, and correlations that can inform sales strategies.
Data Visualization: Utilizing charts, graphs, and dashboards simplifies complex data and facilitates effective communication with stakeholders.
Reporting: This enables informed decision-making and facilitates effective communication within the sales organization.
Predictive Analytics: This enables proactive decision-making and empowers sales professionals to make statistics-driven strategic choices.
Statistical Analysis: These provide a deeper understanding of the factors influencing sales performance and help identify areas for improvement.
Segmentation Analysis: By analyzing sales info across different customer segments, teams can tailor their strategies and messages.
Cohort Analysis: This involves grouping customers based on specific characteristics or time periods, strengthening customer relationships.
Text Mining and Sentiment Analysis: By extracting meaningful insights, field teams can understand customer sentiments and identify pain points.
Machine Learning Algorithms: This technology can be employed to analyze large volumes of sales details and uncover complex patterns.
Geographic Analysis: By understanding regional variations, sales reps can optimize territory management, and identify new market opportunities.
A/B Testing: This involves conducting controlled experiments to compare the performance of different sales strategies, messages, or approaches.
3. Optimizing Field Sales Strategies
Facts-based insights have the power to transform field sales strategies and unlock new levels of success. Personalization and targeting based on customer insights are key elements of successful strategies. 
The Role of Data-Driven Insights in Field Sales
Deep Understanding of Customers: Leveraging information enables sales professionals to gain a deep understanding of customer preferences and pain points. This knowledge allows them to tailor their communication, offerings, and strategies to resonate with individual customers.
Identifying Potential Leads: By analyzing statistics, representatives can pinpoint high-potential opportunities and prioritize their sales efforts accordingly. This targeted approach maximizes productivity and increases the chances of successful conversions.
Prioritizing Sales Efforts: With fact-driven insights, sales teams can prioritize their efforts effectively. By focusing on high-potential opportunities identified through report analysis, professionals can allocate their resources efficiently.
Improving Conversion Rates: By tailoring their approach based on the customer perspective, professionals can address specific pain points and motivations. This personalized approach increases the chances of converting prospects into customers.
Aligning Sales Efforts with Customer Needs: Datum-driven insights enable teams to align their efforts with the needs and preferences of their target audience. This alignment enhances customer satisfaction and drives revenue growth.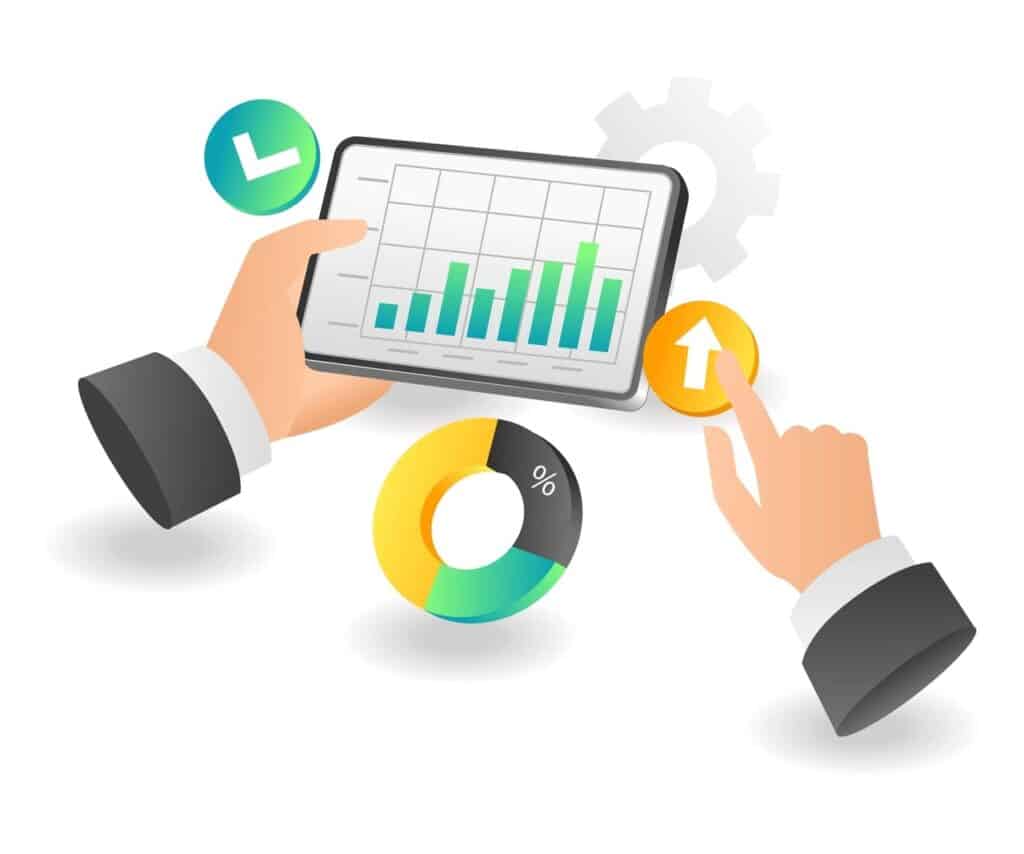 Overcoming Challenges and Implementing Data-Driven Insights
By overcoming resistance to change, fostering data literacy, addressing technological barriers, providing education and training, addressing concerns, leading by example, and promoting continuous improvement, sales teams can successfully implement fact-based insights in field sales.
This integration enables field teams to make informed decisions, optimize strategies, and drive revenue growth based on valuable insights derived from sales details.
Resistance to Change: Implementing datum-driven insights requires overcoming resistance to change. Field teams must cultivate a culture of openness and proactively communicate the advantages and value of fact-based decision-making to address resistance from team members.
Lack of Data Literacy: Data literacy is a vital skill for effectively implementing datum-driven insights. Teams should invest in training programs and resources to enhance the data literacy capabilities of team members, ensuring they can proficiently apply insights derived from sales reports.
Technological Barriers: Outside reps should assess and adopt technologies that facilitate efficient collection, storage, analysis, and visualization. Providing the necessary resources and support for technology adoption is crucial for surmounting these barriers.
Education and Training: Educating and training field teams on the significance and benefits of data-driven decision-making is paramount. Training programs should focus on augmenting reports literacy, fostering analytical skills, and acquainting teams with relevant tools and technologies.
Addressing Concerns and Skepticism: Showcasing real-world success stories of statistics-driven approaches can help alleviate doubts and gain buy-in from team members. Clear communication and ongoing support are vital in building trust and confidence in data-driven insights.
Leading by Example: Sales leaders should lead by example in embracing and utilizing datum-driven insights. By incorporating fact-based decision-making into their own practices, leaders can inspire and motivate their teams to embrace datum-driven approaches.
Continuous Improvement: Implementing datum-driven insights is an ongoing process. Field teams should continuously evaluate and refine their practices, incorporating feedback, and staying updated with advancements in analytics and technologies.
Final Thoughts | Letting Data and Statistics Decide
Harnessing the power of data, teams can optimize their strategies, boost productivity, and propel revenue growth to unprecedented heights.
This comprehensive guide equips you with the knowledge, strategies, and tools needed to succeed, from gathering and analyzing data to extracting actionable insights and overcoming implementation challenges.
Embrace the transformative force of data-driven insights and unlock the full potential of your field sales endeavors, achieving remarkable results.
Remember, data is more than just numbers; it is a formidable asset that propels your efforts to new frontiers.
Embrace the statistics-based era and revolutionize your field sales strategies for unparalleled success. Begin by leveraging trusted and reliable field sales management software.
Frequently Asked Questions
How can data-driven insights enhance sales forecasting?
Facts-based insights revolutionize forecasting by equipping teams with a comprehensive understanding of customer behaviors, market trends, and historical details. This invaluable knowledge empowers them to make highly accurate predictions and shape their strategies accordingly.
How can datum-driven insights improve customer engagement in field sales?
Such insights enable sales professionals to delve deep into individual customer profiles, uncovering preferences, and pain points. Armed with this information, teams can personalize their approach, offer tailored solutions, and foster robust customer engagement. The result is stronger relationships, heightened customer satisfaction, and increased loyalty.
What tools and technologies can support fact-based insights in field sales?
Customer relationship management (CRM) systems, sales analytics platforms, and business intelligence tools form the foundation of datum-driven insights in field sales. These advanced solutions make information collection, analysis, visualization, and reporting seamless. Field teams can use them to gain actionable insights from their reports, enabling informed decision-making for success.
How can datum-driven insights help field teams identify new opportunities in the market?
Info-driven insights help teams identify new opportunities by analyzing customer interactions, market trends, and competitive landscapes. By understanding emerging trends, customer needs, and potential gaps in the market, field reps can identify untapped opportunities and develop targeted strategies to capitalize on them, driving growth and market expansion.